Bristol Harbour Festival 2010 'most successful ever'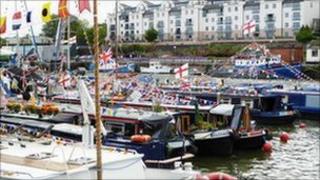 The organisers of the Bristol Harbour Festival say this year's three-day free event has been the most successful yet.
A spokeswoman said about 120,000 people had attended on Saturday, with a similar number estimated to have been there on Sunday.
She added that about 7,500 people had been at the opening event on Friday, a concert in Queen Square.
The spokeswoman said: "It has definitely been the most successful we have ever had."
The event, which is organised by Bristol City Council's arts and culture team, is now in its 39th year. In 1971 it was called the Bristol Harbour Regatta.
'Really relaxed'
It expanded from the harbourside into Castle Park this year.
One of the highlights was a fireworks display on the harbourside at 2200 BST on Saturday.
The spokeswoman added: "The expansion made a difference. It felt really relaxed."
"This morning [Sunday] we found out the fireworks had the biggest crowd turnout with 50,000 people.
"At 1600 BST yesterday [Saturday] there were about 15,000 people in Queen Square and over the whole day we had around 20,000 in each of the five areas and there were another 20,000 roaming."
She thanked the audiences who attended.
"Everyone's been in such a lovely mood and there has been no trouble," she added.