Noah's Ark Zoo Farm urged to drop elephant plans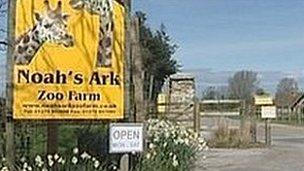 Animal welfare experts have urged a zoo near Bristol to drop plans to build what is thought would be the UK's biggest elephant enclosure.
Noah's Ark Zoo Farm, at Wraxall, has been granted planning permission for a 12-acre enclosure which would be home to up to 10 elephants.
The RSPCA, which is against elephants being kept in European zoos, said it was not enough space for the animals.
The zoo said its plans would improve standards of welfare.
The RSPCA said studies had shown elephants often develop lameness, obesity and behavioural abnormalities in zoos.
The charity's senior scientist, Dr Ros Clubb, said: "It is clear elephants do not fare well in zoos and we believe it would be highly irresponsible to introduce yet more of the animals to such a damaging environment.
"They are highly intelligent and sensitive animals. In the wild they will range over tens of kilometres of land a day, exploring and foraging for food."
Anthony Bush, the zoo's owner, said the non-profit organisation, planned to "take either rescue elephants that are under threat of death in their current environment or individuals in need of a new, better home in Europe".
He added: "We want to draw the public's attention to the extra effort we are making and which has been recognised, to ensure any elephants homed at Noah's Ark will be given the best of care and will benefit from a very large, modern, well-equipped enclosure."
Rob Atkinson, the RSPCA's head of wildlife, said Mr Bush had "some good ideas" but there was only so much zoos could provide for elephants.
"They're trying hard, I don't doubt that, but when you have mortality occurring at an average of seven years compared with 56 in the wild you know all is not right."
The Born Free Foundation, the Captive Animal Protection Society (CAPS) and Animal Defenders International have also expressed concern about the proposals.
In December, the zoo was expelled from the British and Irish Association of Zoos and Aquariums (BIAZA) over its relationship with a circus which it said brought the association into disrepute.
Craig Redmond, of CAPS, said the result of the society's investigation into that relationship "raises serious concerns about how it would house and handle elephants".
Related Internet Links
The BBC is not responsible for the content of external sites.