Volunteers zip across Avon Gorge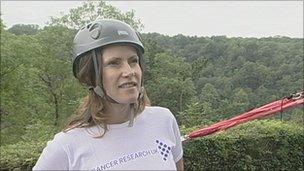 A group of volunteers have launched themselves across an 80m (262ft) deep ravine in an effort to raise money for charity.
In a world first, the group used a zip wire to cross the 250m (820ft) Avon Gorge in Bristol.
But only 17 of the 100 people scheduled to take part were able to due to a boat passing through and technical difficulties.
The stunt was arranged by fundraisers from Cancer Research UK.
Cancer survivor Rebecca Reynolds, who took part, said: "Today's about being positive and challenging yourself."
Ms Reynolds, 35, of Clifton, who helped organise the challenge, became involved in the charity's work after her mother, aunt and a close friend died of the disease and she herself contracted lymphatic cancer.
"Mum died 18 years ago and I believe that, had she been treated today, she would have a much better chance of survival and may even still be alive.
"Having gone through cancer myself at such a young age, I consider myself lucky that it was caught and treated at an early stage."
The team hoped to raise £20,000 in sponsorship through the event.
A zip wire is a system with two cables and a pulley that allows people to travel across an incline at speeds of up to 35mph (56km/h).
Related Internet Links
The BBC is not responsible for the content of external sites.