Fuel 'will not damage Indonesian rainforest'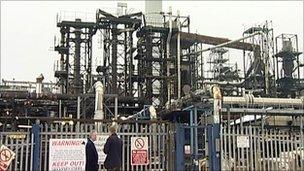 The developers behind a planned power station near Bristol have told a planning inquiry its choice of fuel would not damage rainforests.
W4B applied to build the facility at Avonmouth last February but was rejected for "environmental reasons".
The station would have burned vegetable oil, including palm oil.
W4B is appealing after Bristol City Council refused planning permission because it said palm oil production damaged Indonesian rainforests.
It said it had to consider the "global impact" of the palm oil production process.
W4B denied its choice of fuel would have anything to do with the destruction of rainforests or displacement of orangutans.
It told the inquiry no fuel contracts had been drawn up as the power station would not open until 2013.
W4B said it had no intention of purchasing oil from any company involved in damaging rainforests and that there were supplies of oil available from sustainable sources.
The firm's spokesman said that it would be up to the regulator Ofgem to decide whether the fuel was sustainable or not.
On Tuesday planning inspector Trevor Cookson said Bristol City Council should not consider global impact when considering local decisions.
He repeated his stance on Wednesday, saying: "Ofgem is charged with regulating the fuel source... planners should not try to regulate the regulator.
"It is not the role of the planning system to make up for alleged shortcomings in the regulatory system."
W4B wants to generate up to 50 megawatts (MW) of electricity - enough to power some 8,000 homes.
The planning inquiry is due to run for another six days.
Related Internet Links
The BBC is not responsible for the content of external sites.