Weather improves for ascent at Bristol Balloon Fiesta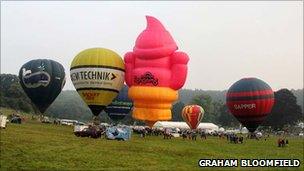 Weather conditions improved enough to allow about 30 balloons to make an ascent at the Bristol Balloon Fiesta.
Low cloud and winds had prevented the planned mass ascent at Ashton Court on Sunday morning in which 100 balloons had been due to lift off.
On Friday morning 81 balloons took off but flights on Thursday, Friday and Saturday evening were also cancelled.
But the wind speed calmed down enough to allow a small number of balloons to take off at 1845 BST.
Several hundred people watched a display of tethered balloons early on Sunday morning and arena events took place throughout the day.
"This morning [Sunday] we couldn't fly because the winds would have sent the pilots straight towards Bristol Airport," a fiesta spokeswoman said.
"We've managed to run most of the arena events so far despite the weather."
The event, which is in its 32nd year, is celebrating 50 years of modern ballooning.
The festival, one of the largest in Europe, used to be held in September but was moved to August in an attempt to get more flights in.
Although the pilots try to fly as often as possible, rain, wind speed or direction are the usual reason for stopping the mass ascents.
The free event, which attracts up to 500,000 people over its four-day run, has been hampered with bad weather before with a number of flights cancelled.
Flights were also affected by foot-and-mouth restrictions and heavy rain in 2001.
In 2000 the event entered the Guinness Book of Records with more than 150 balloons taking off.
Related Internet Links
The BBC is not responsible for the content of external sites.