Former Bishop of Clifton Mervyn Alexander dies, aged 85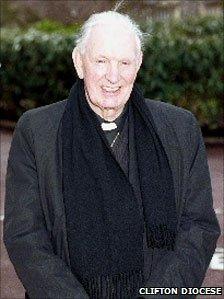 Tributes have been paid to the former Bishop of Clifton who died on Saturday.
The Right Reverend Mervyn Alexander, who was 85, was the eighth Bishop of Clifton, a position he held between 1974 and 2001.
His successor Bishop Declan Lang said "he was a man of humility, a good and holy man".
"In all things Bishop Mervyn was regarded as a man who had great understanding for people. He was very much a human being," he said.
"He welcomed me with great friendship when I was appointed as his successor.
"Bishop Mervyn guided the diocese at a time when both the church and society were changing very much.
"In a sense, the church was learning afresh about how to communicate the gospel in a language and a way people would understand," he added.
On his retirement, Bishop Alexander returned to Weston-super-Mare, as parish priest of St Joseph's, a role he fulfilled until 2008.
He died on 14 August 2010 at St Angela's Home in Clifton, Bristol.
Clifton Diocese is the Catholic diocese covering the West of England and includes the City and County of Bristol, the counties of Gloucestershire, Somerset and Wiltshire.
There are 107 parishes within 13 deaneries serving a Catholic population of around 190,000.
Related Internet Links
The BBC is not responsible for the content of external sites.