Bristol council hopes to buy St Ursula's private school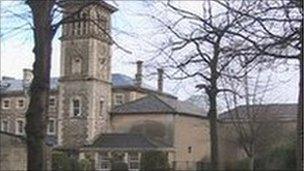 Bristol City Council has said it intends to buy a private school which has gone into administration.
The council's cabinet will hold a special meeting on Friday to make the decision to purchase St Ursula's independent Catholic school.
Councillor Clare Campion-Smith said it wanted to provide "much-needed" state education on the site as soon as possible.
About 160 pupils have been left without schools and 40 staff lost their jobs.
The school, in Westbury-on Trym, went into administration at the beginning of August after a bid to make it a non-denominational academy was rejected by the Sisters of Mercy, the Catholic nuns who ran the school.
It has struggled to remain financially viable because of falling pupil numbers.
The council has since been in discussions with the Christian educational trust Oasis Community Learning, which wants to turn the school into an academy.
Councillor Campion-Smith, cabinet member for children and young people, said the intention was for the school to remain fee-paying for the next academic year.
She said: "We cannot open a new school in a few weeks, so we are in discussions with Oasis Community Learning who have indicated a willingness to continue fee-paying education on the site for a period of time.
"We cannot put council money into a private school - our focus is on providing much-needed state education on the site as soon as practically possible.
"There is no guarantee of our offer for the site being accepted, but we are progressing negotiations speedily and are making this announcement today to help bring some clarity to the situation for anxious families."
Oasis founder Steve Chalke said: "If given the opportunity, Oasis would be delighted to run St Ursula's as a fee-paying, co-educational, all-through school for the coming academic year, whilst at the same time, working in partnership with Bristol City Council and central government to agree longer term considerations regarding future education provision on the St Ursula's site from September 2011."
He thanked parents "for their constant and very tangible support and encouragement over the last couple of months".
Related Internet Links
The BBC is not responsible for the content of external sites.