Weston pier project firm goes into liquidation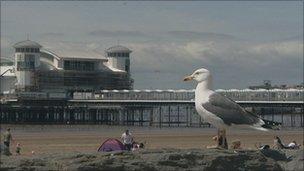 One of the main subcontractors working on Weston-super-Mare's new pier has gone into liquidation.
Joyner Morgan was the main mechanical services contractor on the pier, which was expected to be completed in June but has been hit by delays.
The Bristol-based firm went into voluntary liquidation on Friday with the loss of about 40 jobs.
An opening date for the pier has yet to be confirmed by the owners who have not commented on this latest development.
Co-owner Kerry Michael said earlier this month that he was "bitterly disappointed at the continued delay".
He said: "It is now clear that contractors are still some time away from completion."
The original pier pavilion was destroyed by fire in July 2008.