Bristol council agrees to buy St Ursula's School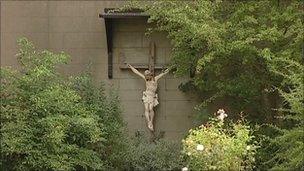 Bristol City Council has agreed to buy a loss-making Catholic private school which was in administration.
St Ursula's in Westbury-on-Trym had made its 40 staff redundant and the future for 160 pupils was uncertain.
The council will continue to run St Ursula's as a fee-paying private school for the coming year.
St Ursula's will then become a non-denominational, state-funded academy school, run by the Christian educational charity Oasis.
The council's education chief, Councillor Clare Campion-Smith said: "This gives the administrators and the other people involved in the negotiations a very clear signal that this is what we want to do and we will proceed as fast as we can.
"We've given the chief executive - together with myself - the freedom to get on with the job."
The cost of the deal, under which the council will by the 114-year-old school's land and buildings, has not yet been settled.
The school's future was put in doubt after the Sisters of Mercy order, who have run the establishment since its foundation, turned down a plan by Oasis that would have taken it away from its Catholic background and opened it to children from families of any faith.
A parents' pressure group has formed to help press for the school to remain open as an academy.
Related Internet Links
The BBC is not responsible for the content of external sites.