Bristol trading standards warn over cash promise scam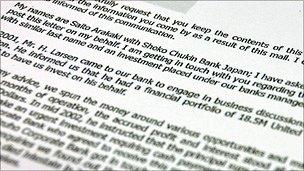 Trading standards officers in Bristol are warning of fraudsters operating on the city's Southmead estate.
It follows the hand-delivery of a letter to the home of a man with learning difficulties.
The scam involved the promise of a cut in an $18.5m (£12m) inheritance in Japan which required the man to contact the writer to obtain the money.
Officials said it was the first step fraudsters used as a ruse to obtain the bank account details of their victims.
A spokesman said the type of scam was known as a 419 or advanced fee fraud.
Phil Parkyn, from trading standards, said: "The letter made a great deal of the need for secrecy - a typical sign of a 419 scam - and gave an AOL e-mail address and a Japanese fax number.
"Luckily, the resident took the letter to his local housing office where a member of staff spotted immediately that it was a scam.
"He was able to warn the victim who has since made a complaint to trading standards."
This type of scam was said to be very common but normally came by e-mail or post.
Related Internet Links
The BBC is not responsible for the content of external sites.