Council deal to buy Bristol school near completion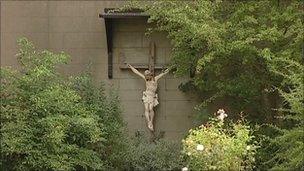 Bristol City Council's deal to buy a Catholic private school which has gone into administration should be complete within "a few days".
The Oasis Trust will run St Ursula's for the first year. It will re-open for lessons on 14 September.
The school, in Westbury-on-Trym, had made its 40 staff redundant and the future for 160 pupils was uncertain.
St Ursula's, which will be renamed Oasis School Westbury, will become a state-funded academy in September 2011.
Steve Chalk, head of the trust, said: "Oasis has been involved in the battle to save St Ursula's as a school, and then to begin the process of turning it into an academy, all the way through.
"I've been talking with the local authority for a month and a half about how they would become involved as well and the local authority is in the process of completing a deal which will be completed very soon now, in the next few days.
"Oasis is taking responsibility to run St Ursula's and put the money behind it for the coming year as an independent school and then in September 2011 it will become an academy."
Mr Chalk said he was confident the deal would go ahead: "There are no other deals on the table. The administrators want the school to open on time and we want it to open."
The school had struggled to remain financially viable because of falling pupil numbers.
Its future was put in doubt after the Sisters of Mercy, the nuns who have run the school since its foundation, turned down a plan by Oasis that would have taken it away from its Catholic background.
The Sisters have said they could only invest in a new plan for the school themselves if it remained Catholic, but were open to the use of the property as a non-denominational school if anyone came forward with sufficient funds.
Related Internet Links
The BBC is not responsible for the content of external sites.