Work begins to renovate the Curzon Cinema in Clevedon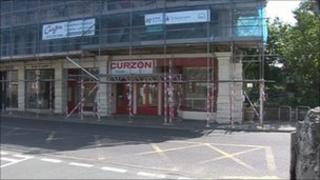 A historic cinema in North Somerset is starting refurbishment work after being awarded a lottery grant of more than £320,000.
The Curzon Community Cinema in Clevedon first opened its doors in 1912 - the year the Titanic sank.
The venue was awarded £321,900 to pay for structural repairs which will allow access to parts of the building which have been closed off for decades.
The cinema plans to remain open throughout the restoration work.
Titanic appeal
Gareth Negus, the cinema's director, said: "We have people coming here on a regular basis who have been coming here since they were little children.
"They are now bringing their children or in some cases their grandchildren to see films here."
The Curzon opened 98 years ago on 20 April 1912 and was called The Picture House.
Its first show was a special matinee to raise funds for the Lord Mayor of London's Appeal for the survivors and relatives of the people lost in the sinking of the Titanic a few days earlier.
The community cinema, which now operates as a registered charity, won the grant from the Heritage Lottery Fund in March.