Work starts on site of new school in Bristol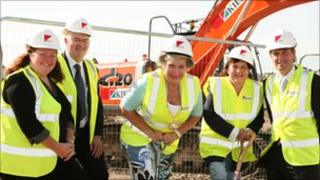 Work has started on building a new school in Bristol for children with behavioural, emotional and social difficulties.
The 35-place secondary school, on Mulberry Drive, Kingswood, is due to open in September 2011.
Work on the school's primary site is due to start at Courtney Road later this year and be completed in 2012.
A council spokesman said there had been a "significant" increase in children with difficulties.
At present the council uses schools out of the area for affected children which it has to pay for.
'Educational review'
It is hoped that by offering the service within the county it will better serve pupils and help to save the council cash.
Sheila Cook, South Gloucestershire Council's executive member for children and young people, said: "We identified the need to provide such a facility following a review of wider special educational needs provision across the authority.
"This highlighted a significant increase in the numbers of pupils with behavioural, emotional and social difficulties."
The work is being undertaken by Bristol-based contractor, Kier Western, which built the authority's offices in Yate.
The hall, changing facilities and games court at the school will be available for community use.
No name has been decided for the school yet.