Drink-driver took cocaine before crash near Bristol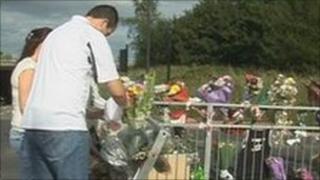 A speeding driver who had been drinking and taking cocaine crashed into a lorry near Bristol, killing himself and a friend, an inquest has heard.
Patrick O'Donoghue, 25, collided head-on with the 7.5 tonne Royal Mail lorry on Winterbourne Road in Stoke Gifford last August.
He died at the scene and rear passenger James Tyrer, 17, died in hospital.
Coroner Tony Williams recorded narrative verdicts at Avon Coroner's Court.
The hearing heard Mr O'Donoghue, a gardener from Patchway, was three times over the alcohol limit and had taken cocaine before the crash happened, at about 0200 BST on 22 August 2009.
The impact caused the lorry's cab to become detached from the chassis and its driver was thrown from the vehicle.
Mr Tyrer, a student from Winterbourne, suffered multiple injuries and died at Frenchay Hospital, the inquest heard.
Motorist Carly Austin said she did not see the collision but saw the Mercedes E220 that Mr O'Donoghue was driving, pass her from the opposite direction.
'Car shook'
In a statement, she said: "I saw a very shiny black Mercedes car and it was going very fast.
"I would estimate the speed of the car as going over 70mph. As he went past my car it shook."
The hearing heard the crash happened on the 40mph road when lorry driver Christopher Gibson turned right at a junction, on to the Old Gloucester Road.
Mr Gibson had right of way and Mr O'Donoghue should have stopped, the inquest was told.
Mr Gibson - and two of the Mercedes' other passengers, Billy Connor and Patrick Tomkins - were seriously injured.
Avon and Somerset Constabulary crash investigator Pc Philip Howells said none of the occupants in the Mercedes had been wearing seatbelts.
Mr Williams, a deputy assistant coroner for Avon, said: "I have been sat in inquests for 12 years and I have rarely seen damage to a car like this.
"The damage was considerable and extensive which is largely indicative of the speed the Mercedes struck the Royal Mail truck."