Bristol Airport expansion over 'final hurdle'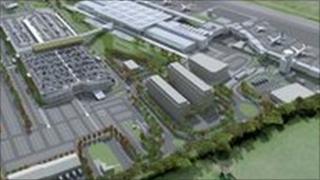 The secretary of state has decided not to "call in" Bristol Airport's plans for expansion, giving the development the green light.
The £150m scheme was recommended for approval by North Somerset councillors in May.
Bristol Airport said Friday's decision was "a vote of confidence" in the council's consultation process.
Campaigners against the expansion said they wanted to consider their options before commenting.
Increased pollution
An airport spokesman said the plans could create 4,000 jobs and inject £340m into the local economy.
Robert Sinclair, the airport's chief executive, said: "This is great news for our passengers, airlines, business partners and staff."
But campaigners have argued that a 60% increase in passenger numbers was too high.
More than 5,500 comments were sent to the council during a consultation and 5,180 of them were objecting to the plans.
The Stop Bristol Airport Expansion campaign fought the scheme, saying it would lead to increased pollution, noise and traffic congestion.
'Vigorous examination'
Councillor Elfan Ap Rees, North Somerset Council's deputy leader, welcomed the news, which the authority received in a letter from the Government Office for the South West.
He said: "We are delighted that the proposed expansion of Bristol Airport has got over the final hurdle as far as planning is concerned.
"The application underwent a vigorous examination and all parties, whether pro or anti, had the chance to put forward their case.
"We look forward to an expanded airport contributing to the continued economic vibrancy of North Somerset, making it an even more attractive location for firms to set up or relocate their businesses as well as increasing the numbers of visitors and tourists to the area."
A council spokesman said officers would now finalise the Section 106 agreement that accompanies the planning application.
It includes matters such as financial contributions from the airport towards traffic and the environment.
Mr Sinclair said construction could start in 2011.