Views sought on 'ghost streets' in Bristol city centre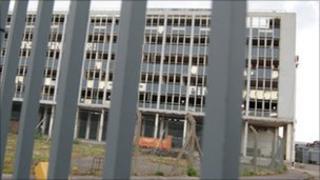 Bristolians are being asked how "ghost streets" in the city centre could be regenerated to "bring back prosperity".
Bristol City Council wants to know what people want to see in derelict areas such as Stoke's Croft, Nelson Street and the Cumberland Piazza.
The council said it had to plan for the next 15 years, regardless of the current economic circumstances.
Councillor Anthony Negus said: "We've got to restore and regenerate and come up with some great ideas."
The Lib Dem claimed the council would then make money from renting properties out.
Currently there is 1.7 million sq ft (160,000 sq m) of vacant office space in Bristol - the most since the last recession in 1992.
Mr Negus said the spaces were not being let out as the buildings' 1960s architecture did not "match with modern working practices".
"The imperative now is that buildings are more specialised and some of these buildings are in another age and it is difficult to see how they can be refurbished.
"Some of them may have to have a much more radical solution but the most important thing is to get life back into them."