Women urged to donate eggs for IVF treatment in Bristol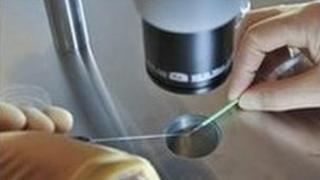 Young Bristol women are being urged to donate their eggs in order to cut down waiting times for IVF treatment for infertile couples.
Currently patients are having to wait around three years for eggs to be donated at Southmead Hospital.
Of the 50 women who came forward to donate their eggs each year, only 10 go on to become donors. Each donor can help two or three women.
Couples who cannot wait for eggs are now travelling abroad for treatment.
'Incentive enough'
One Bristol couple who have spent £10,000 in Barcelona on two IVF treatments, said they went there as there was not a shortage of eggs.
In Spain, women are paid up to 800 euros (£700) for their eggs while in the UK, women can be paid a maximum of £250 for travel and loss of earnings.
The body that regulates fertility treatment in the UK is currently reviewing this policy.
One woman who has donated 22 eggs said: "If you're going to help somebody else, then surely that's an incentive enough to help somebody who's desperate for children, rather than earning some money."
Judy Gosmore, the egg donation co-ordinator at the Bristol Centre for Reproductive Medicine, has raised concerns about the safety of travelling abroad, saying women may not get the follow-up care they need when they return home.
Ms Gosmore said: "I think the issue is getting the awareness out there.
"I think there are women who will do this altruistically but they're not aware of how to get in touch with us and what's involved."