Gas balloon race team from Britain in third position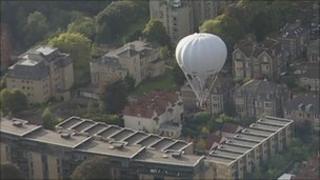 The only British team left in the Gordon Bennett 2010 international gas balloon race has moved into third place in the contest.
Wiltshire adventurer David Hempleman-Adams and Simon Carey, one of three teams still flying, had travelled 1,808 km (1,123 miles) by 2028 BST.
Germans Wilhelm Eimers and Ullrich Seel are in second place, having travelled 1,870km (1,161 miles) in the same time.
The third team still flying are the US team, now in 5th place.
Twenty teams launched near Bristol on Saturday, aiming to fly the furthest.
The second of the remaining German teams, Matthias Zenge and Markus Pieper, landed at 1500 BST on Tuesday.
Two British teams were forced to land on Monday.
'Really scary'
Posting on their blog earlier, Mr Hempleman-Adams said: "We flew out over the Aegean at 12,000 feet (3,657 metres) so it was all going well.
"Then, all of a sudden, the balloon plummeted to 1,000ft (300m). We maniacally threw out sand and water. It was really scary.
"The good news is we have stabilised now both the balloon and our mental state and are flying steadily."
The pair were flying over the Adriatic Sea at 1343 BST.
Britain's Janet Folkes and Ann Rich were reported to have descended in France after flying 645 miles (1,037km).
Colin Butter and Paul Spellward also came down in France after flying 569 miles (916km).
The balloons are controlled by releasing gas to descend and throwing out sand to ascend.
Switzerland's Kurt Frieden and Pascal Witpraechtigeis landed in Romania earlier in first place, having travelled 2,435km (1,513 miles).
French team Sebastien Rolland and Vincent Leys are now in fourth place having landed in Italy, travelling 1,805km (1,122 miles).
The balloons were not allowed to fly over Italy or Sardinia at night.