Sacked Avon coroner is reinstated after clerical error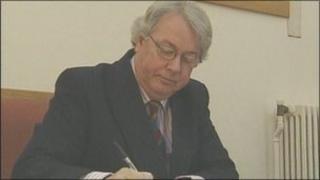 A coroner who was sacked after a dispute with Bristol City Council has been reinstated.
Avon coroner Paul Forrest was removed from his post in June after being accused of acting improperly over the building of a new £2.3m mortuary.
He is now back to being suspended on his full salary of about £120,000.
Lord Chancellor Kenneth Clarke has admitted he had "failed to comply with prescribed procedures" concerning Mr Forrest's appeal against dismissal.
The error could cost about £30,000 in back pay for the three months he was sacked.
Mr Forrest, who earns about £120,000 a year, was suspended in March 2009, pending the outcome of a conduct investigation, after allegations that he had spent public money without the right authority.
But the coroner claimed he had no choice because existing hospital mortuaries no longer met EU standards.
Mr Clarke has now written to him and admitted he should have allowed him to make further appeals against the decision.
He wrote: "You have subsequently made an application to judicially review that decision.
"I am advised that one of the grounds upon which that application stands relates to a perceived failure on my behalf to comply with prescribed procedures by affording you the opportunity to submit further representations against your removal.
"It's accepted by the Lord Chief Justice and I that you should be given an opportunity to make representations against your removal."
Last week the city council cancelled interviews for a replacement coroner when the Lord Chancellor's mistake came to light.
A spokesman said the council had no power to appoint while there was no vacancy.
Mr Forrest's solicitor, Andrew Gregg, said: "I think it is only right that justice is now seen to be done and that he is reinstated... and that the proper and full arguments can be put forward as to why his employment as coroner and as an immigration judge should not continue."