Bristol flatmate loses luggage by loading the wrong car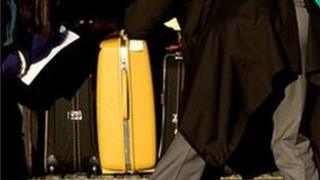 A woman on her way to a new life lost all her possessions after her flatmate loaded everything she owned into the wrong car - which then drove away.
Faye Pounder, 25, was moving from Bristol to Cornwall with fiance Ali Walker, 31, on Monday.
Flatmate Paul Robbins offered to carry her bags downstairs and load them into her white Citroen Xsara Picasso.
But he mistakenly opened the boot of a silver car of the same model, which drove off.
When she emerged from the rented property in the Stokes Croft area, Ms Pounder was shocked to find her car sitting empty.
Ms Pounder, a pub chef, said she immediately realised what her flatmate had done.
"I first thought that somebody had stolen the car but when I got downstairs I realised it was someone else's car and not ours," she said.
But she is determined to remain friends with Mr Robbins, who admits his "stupid" blunder.
£3,000 lost
He said: "I tried to speed up the moving process by helping move her stuff out.
"I thought I put them in the right car but I got outside and stupidly loaded them into the wrong boot."
Ms Pounder has reported the loss to police and is appealing to the car owner to come forward and return her property, worth an estimated £3,000.
"I bet they don't even know that it's in there yet," she added.
Anyone with information should contact Avon and Somerset Constabulary.