Bristol City FC stadium fight is taken to parliament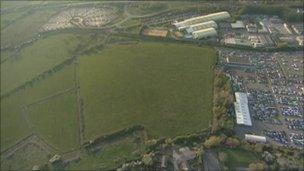 A delegation of representatives from Bristol City Football Club has met MPs at the House of Commons.
The club's plans for a £92m stadium on land at Ashton Vale could be halted by attempts by local residents to preserve the land.
The development was granted planning permission but an inspector has now recommended that it be granted town green status.
The final decision now rests with Bristol City Council.
Land can be registered as a town or village green under the Inclosure Act 1857 and Commons Act 1876.
At a 10-day inquiry into the application an independent inspector concluded the whole site met the legal requirements and said status should be granted.
If the inspector's recommendations are followed and the plans to build the stadium turned down it would also see the end to Bristol's bid to host World Cup matches if the tournament is held in England in 2018.
More than 17,000 people have signed a petition backing the stadium bid.
Bristol City FC's chairman, Steven Lansdown, said he thought the "support was generally there" for the stadium.
Mr Lansdown said he believed the MPs would agree the rules which have seen the stadium held up were "ridiculous".
"We've gone through all due process with the democratic planning process, had consultations with the public and we've got agreement from both sets of councils and suddenly this joker has been thrown onto the table," he said.
"This project is a big project so we're drawing MPs' attention to the vagaries of this legislation and asking for it to be reviewed."
A counter-petition from residents who oppose the new stadium has gained some 700 signatures.
One protester, who asked to be named only as Jean, said the stadium would mean "quite a lot of noise" for her and her neighbours.
She added that she believed the 17,000 signatures were "a pittance compared to the number of people in Bristol".
Another, Liz, said: "It's going to be absolutely huge and glow red in the dark. It's going to look like a carbuncle and look horrible.
"I am really worried about the traffic, we have now got quite a job getting out of Ashton Drive and traffic can be very bad.
"They don't put any infrastructure in and that is my main concern," she added.
Related Internet Links
The BBC is not responsible for the content of external sites.