Pessimistic dogs 'more anxious' when left alone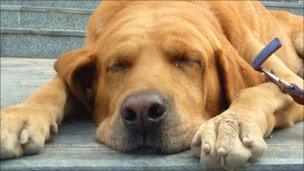 Dogs that bark or destroy objects when left alone may be "pessimistic", a new study has shown.
A team at Bristol University used human psychology research to compare negative-natured dogs with those that display a "glass half full" attitude.
Professor Mike Mendl, who led the research, drew comparisons between the emotional states of dogs and people.
The study was funded by the RSPCA which sees a large number of dogs given up due to behavioural problems.
"We know that people's emotional states affect their judgements and that happy people are more likely to judge an ambiguous situation positively," said Professor Mendl, head of the Animal Welfare and Behaviour research group at Bristol University's School of Clinical Veterinary Science.
"What our study has shown is that this applies similarly to dogs - that a 'glass half-full' dog is less likely to be anxious when left alone than one with a more 'pessimistic' nature."
In the study, dogs at two UK animal re-homing centres were trained so that when a bowl was put at a "positive" location it would contain food, but when at the "negative" location it would be empty.
The bowl was then placed at ambiguous locations between the positive and negative positions.
Professor Mendl explained: "Dogs that ran fast to these ambiguous locations, as if expecting the positive food reward, were classed as making relatively 'optimistic' decisions.
"Interestingly, these dogs tended to be the ones who also showed least anxiety-like behaviour when left alone for a short time.
"Around half of dogs in the UK may at some point perform separation-related behaviours - toileting, barking and destroying objects around the home - when they're apart from their owners.
"Our study suggests that dogs showing these types of behaviour also appear to make more pessimistic judgements generally."
Related Internet Links
The BBC is not responsible for the content of external sites.