BOC acetylene cylinder production to move from Bristol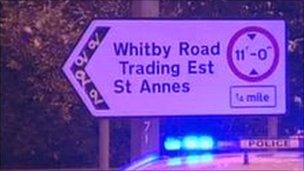 The production of dissolved acetylene cylinders at the BOC Gases plant in Bristol is to stop following an explosion which injured three men.
Cylinder production has been on hold since the blast in January but the company has now taken the decision to end it permanently.
BOC said one of the reasons for the move was to ensure the safety of nearby businesses in St Annes.
It said a "number of jobs" could be lost as a result of the decision.
The company said another facility in Newport, Gwent, would also stop making acetylene cylinders.
BOC Gases denied reports that the entire Bristol plant would close.
A statement from the firm said: "BOC recognises the expertise and commitment shown by employees at Bristol who have been involved in dissolved acetylene production for many years.
"However, it is not realistic to continue to have in such a built-up area a factory which has to meet the changed zoning requirements of the Explosives Act."
BOC said it would redevelop the site to allow it to "operate efficiently" and was talking to unions about job losses.
The company said it was looking at building a dissolved acetylene plant at Immingham in Lincolnshire.
Related Internet Links
The BBC is not responsible for the content of external sites.