Calls for Dominican Republic starvation death inquiry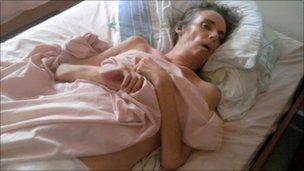 The family of a British woman who died of starvation in the Dominican Republic have called for a full investigation into her death.
Virginia Owen, 48, from Weston-super-Mare, moved to the Caribbean four years ago to start a new life.
But when her brother Daniel went to visit last week she was so emaciated he called an ambulance immediately. She died a few hours later.
The Foreign and Commonwealth Office (FCO) is providing consular assistance.
Ms Owen's mother Rosemary Walkley, 73, said: "She sold all her property and sold her shares and went over to the Dominican Republic to start a new life in paradise."
She said her daughter had loved it there at first and had found a boyfriend who moved in with her.
But Mrs Walkley said her daughter had "seemed tired" when they visited her two years ago and after that they had trouble getting in touch with her and started receiving hate e-mails which she did not believe her daughter had written.
The last e-mail arrived the day before she died and her father, John Walkley, said there was no way his daughter could have written it.
Mr Walkley said: "Apparently she had fallen out of bed and hurt her back.
"She's supposed to have sent this e-mail, but this is absolutely physically impossible because according to the photo we've seen she was very, very emaciated."
Mrs Walkley rang and spoke to her daughter's boyfriend after receiving that e-mail.
She said: "I could hear my daughter moaning in agony and he said she was hallucinating and he couldn't get her to hospital. He said 'I don't expect she will last long'.
"She went over there with £200,000, but he said they couldn't afford a doctor.
"I said 'put her in hospital, we'll pay the bill'."
Ms Owen's brother immediately caught a flight over to the Dominican Republic to see her.
John Walkley said: "He said he picked her up and she didn't weigh any more than our little grandson who's just over a year old."
He said his son called for an ambulance which took Ms Owen to an American hospice where she died shortly afterwards on 12 October.
Mrs Walkley said they had been told a post-mortem examination revealed she had starved to death.
"Everything is so slow over there. We haven't known which way to turn," she said. "We are devastated and are trying all channels."
A spokesman for the FCO said: "We can confirm the death of a UK national in the Dominican Republic. We are providing consular assistance to the next of kin."
Related Internet Links
The BBC is not responsible for the content of external sites.