Decision over Pulteney Bridge traffic may take longer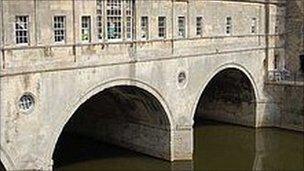 A decision on banning traffic from the historic Pulteney Bridge in Bath could take longer than expected.
A plan submitted by Bath and North East Somerset Council (B&NES) would ban taxis and buses making it fully pedestrianised.
First Bus pre-empted the ban six months ago and rerouted all its services away from the bridge.
The council was due to make a decision on the ban in November but now wants more time.
The scheme aims to make the Argyle Street and Grand Parade area more pedestrian and cyclist-friendly.
Cars and other traffic are already banned from crossing the bridge.
Francine Haeberling, the Conservative leader of B&NES Council, said they did not want to "rush in" to making a decision.
She said that she wanted to make sure that revised bus routes served several care homes near Pulteney Bridge.
Bath Tourism, part of B&NES Council, describes the bridge by saying: "Pulteney Bridge, together with the Ponte Vecchio in Florence, is one of the world's most beautiful bridges.
"Like the Ponte Vecchio it is one of a handful of historic bridges in the world with shops built into it."
Related Internet Links
The BBC is not responsible for the content of external sites.