Bishop of Bristol raises concerns about benefit cuts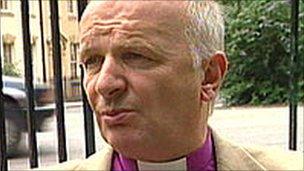 The Bishop of Bristol has voiced his concerns about the effects of the government's spending cuts on the poorest in society.
Chancellor George Osborne's spending review announcement last week included an extra £7bn in savings from the welfare budget.
The Right Reverend Michael Hill said he accepted there was a need to tackle benefit cheats.
But he said there was a risk the most vulnerable in society would suffer.
"It's slightly chilling to think that the government's targeted some five million benefit recipients and is trying to knock down their benefits," he said.
"I think in the context of fairness, nobody thinks that's a bad thing for people who are clearly cheating the benefits system, but my understanding is that the majority aren't and obviously that's a concern to us."
Related Internet Links
The BBC is not responsible for the content of external sites.