Ashes of woman who died in Dominican Republic returned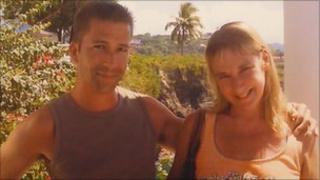 The ashes of a woman who apparently died of starvation in the Dominican Republic have been returned to the UK.
Virginia Owen, 48, from Weston-super-Mare, moved to the Caribbean four years ago to start a new life.
Her brother Daniel Walkley visited her earlier this month and found her emaciated. He called an ambulance but she died a few hours later.
He returned with her remains this week. He said she had cancer of the liver, which the family had been unaware of.
The family said a post-mortem examination also revealed she had starved to death.
Mr Walkley, from Tiverton in Devon, said he had flown out after one of his sister's friends contacted him through Facebook saying they had not heard from her for a while.
He said: "When I walked in the room I almost thought she was already dead.
"It was like a 100-year-old woman lying there, not my beautiful sister that I once knew.
"I explained I was there to help her and conveyed my mother and father's love and concern.
"She did manage to get out the words 'thank you Daniel'. That's about all she could manage."
Ms Owen was taken to a hospital where she died on 12 October.
The family have called for a full investigation into her death.
A spokesman for the Foreign and Commonwealth Office (FCO) said it was providing consular assistance.