Family of man hanged in Bristol in 1821 seek burial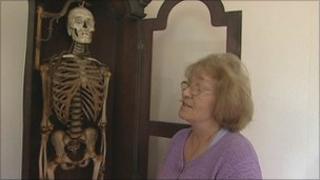 The family of a man who was hanged for murder in Bristol are planning to give him a proper burial, more than 180 years after he died.
Mary Halliwell, from Leigh in Greater Manchester, was researching her family tree on the internet when she discovered she was related to John Horwood - the first man to be publicly hanged at Bristol's New Gaol in 1821.
He was the brother of Mrs Halliwell's great-great-great grandfather and lived in the village of Hanham near Bristol.
Horwood was sentenced to death for the murder of Eliza Balsom who also lived in the village.
Mrs Halliwell has since discovered Horwood's body is being stored by the University of Bristol and now is making plans, with the help of a local funeral director, for a burial.
Hit in eye
Mrs Halliwell said that she understands Horwood and his victim had a relationship but that he then "went out of favour".
It is then believed that Horwood threw a stone at Eliza when she was crossing a brook.
The stone hit her on the eye, the wound became infected and she later died.
Mrs Halliwell uncovered the story while researching her family history.
She said: "I've got this terrible habit - I put anything into Google to see what comes up."
She said she found a newspaper article about John Horwood - the murder, his arrest and the hanging.
She said: "I read it through and I thought 'maybe he is one of my ancestors'. It gives you a buzz - genealogy.
"We did some more research and discovered that a surgeon at the Bristol Royal Infirmary, Richard Smith, had taken the body - after the hanging - for dissection.
Book of skin
"Dr Smith then skinned the body and had the skin preserved and tanned before using it as a cover for the book in which he bound all his papers relating to John Horwood's case."
The book, known as the Horwood Papers, is currently held by the Bristol Record Office.
Mary Halliwell then discovered that Horwood's skeleton was still in one of the laboratories at the University of Bristol.
She and a cousin went to Bristol to see the skeleton and were shocked when they found out where his remains were stored.
She said: "I said 'what's he doing in a cupboard under the stairwell and covered in cobwebs.
"The rope is still around his neck. Why is that there? That is sick that is."
The university explained the skeleton actually belonged to the family and they could decide what should happen to it.
Mrs Halliwell discovered the "book of skin" contained letters from Horwood's parents appealing for his body to be released after the hanging so they could bury it.
She said the surviving family decided to respect the wishes of his parents.
Mrs Halliwell said she contacted the university and the family was offered a "minimalist cremation".
Mrs Halliwell said: "It saddened and angered me that the 'book of skin' is one of Bristol Record Office's 'treasures' but John Horwood's remains are disregarded and disposable."
Mrs Halliwell then contacted the funeral directors in the village of Hanham and they said they would help with the burial.
'Treated with respect'
Funeral director Austin Williams, of EC Alderwick, said: "It's a massive part of local history and often talked about.
"We felt it was our right as part of the community to become involved. We feel a funeral should be a true reflection of how a funeral would have been in 1821.
"The big difference is that it would have been a burial and not a cremation. All John's family are buried in the local church."
No date has yet been set for the funeral but the family hope to have the service on 13 April at 1330 GMT - the date and time of his execution.
A spokesperson for the University of Bristol said: "The university has a long history through our medical school of dealing with the handling of human remains.
"In all cases, we ensure that all bodies are treated with respect and handled in an appropriate manner."
The churchyard is not the one where Eliza Balsom is buried and no contact has been made with her descendants.