Service to mark major bombing raid on Bristol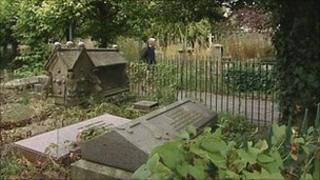 A memorial service to mark the 70th anniversary of the first major bombing raid on Bristol has taken place.
On 24 November, 1940, some 156 tonnes of high explosives were dropped on the city, plus 12,000 fire bombs.
The service was held at Arnos Vale cemetery earlier in remembrance of the 1,299 Bristolians killed in WWII.
John Bartlett, who survived the blitz, said when his father saw the flares coming down he knew the Luftwaffe "meant business" that night.
The service was attended by the city's Lord Mayor, Councillor Colin Smith, representatives from the Royal British Legion and schoolchildren from nearby Knowle Park primary.
The area around Castle Park and St Andrew's church in Clifton were among the areas badly hit.
Bristol was targeted during World War II because of the docks at nearby Avonmouth and the aircraft works at Filton.