Bristol Concorde museum to stay closed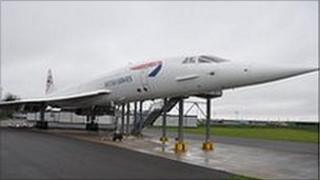 A Concorde exhibition in Bristol, which was closed for maintenance to the plane, will not reopen for tours.
Airbus said the plane - Alpha Foxtrot - would be returned to its display location off Filton airfield while a permanent home was found for it.
An Airbus spokesman said Filton was "always meant to be an interim step towards finding a more permanent home".
The plane was the last of the fleet to fly when Concorde was withdrawn from service by British Airways in 2003.
Two members of staff from the Bristol Aero Collection, who previously managed the tours, were made redundant when the plane was closed to members of the public in the autumn.
Mark Stewart, from Airbus, said the firm had spent £1.4m on maintaining the aircraft, which had recently developed water leaks.
"We understand that closing the tours is disappointing, especially to the volunteers from the Bristol Aero Collection who have been wonderful ambassadors for the aircraft," he said.
"But the aircraft will return to its outdoor exhibition space sometime in the spring, and remain there until it moves to a new home."
Oliver Deardon, from the Bristol Aero Collection, said he had a "mixed reaction" to the news.
"The volunteers have given six years to showing people around. Some will be disappointed, but some will think it's got to be look after and maintained," he said.
"If it's going to be looked after and if efforts are put in to find it a new home then we'll go with that."