Husband of honeymoon murder bride gets medical help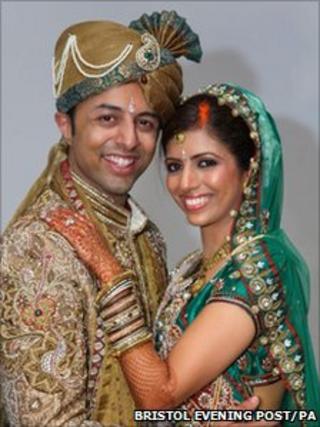 The man whose wife was murdered on their South African honeymoon is receiving medical help to deal with the trauma, his brother has said.
Shrien Dewani, from Bristol, and his bride Anni were hijacked in a taxi near Cape Town and Mrs Dewani was shot dead.
His brother, Preyen Dewani, said in a statement: "As you can imagine he has been severely traumatised by what happened."
Three men have been arrested in connection with Mrs Dewani's murder.
The Swedish national and her husband, from Westbury-on-Trym, had been married for two weeks when the kidnapping happened on 13 November.
Mrs Dewani was found dead in the taxi in the Khayelitsha township the following morning.
'Dreadful state'
In the statement, released through publicists Max Clifford Associates, Mr Dewani's brother dismissed "totally false accusations blaming him for what happened to his wife from people seeking to divert this matter away from security in South Africa for ordinary people".
He said: "Shrien is having to deal with the tragic loss of his chosen life partner on their honeymoon as well as the horrific ordeal of being held up and terrorised at gunpoint before his wife was brutally murdered."
And he added: "At this stage I would like to make it clear that Shrien has not been asked to go back to South Africa.
"As you can imagine he has been severely traumatised by what happened to Anni and himself on their honeymoon in this country.
"He is currently receiving medical assistance and help to deal with the awful trauma that he is experiencing.
"His family are in constant contact with the police in South Africa and are fully co-operating with their investigation."
Mr Clifford said: "He is in a dreadful state, like anybody who has been through what he has been through, being on top of the world and then everything destroyed."
South African police said Mrs Dewani had been shot in the back of the neck.