South Africa honeymoon murder accused in court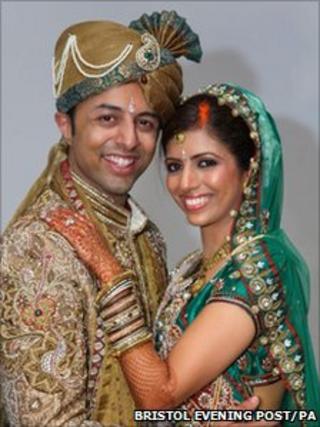 A man has appeared in court accused of murder and aggravated robbery over the killing in South Africa of a Bristol woman on her honeymoon in South Africa.
Anni Dewani was shot dead after the taxi she and her husband, Shrien, were travelling in was hijacked near Cape Town.
Xolile Mngeni, 26, from Khayelitsha, is also accused of kidnapping.
The case was adjourned until Monday when Mr Mngeni is expected to appear with two other men.
Mrs Dewani, a Swedish national, and her husband, from Westbury-on-Trym, had been married for two weeks when the kidnapping happened on 13 November.
She was found dead in the taxi in the Khayelitsha township the following morning.
South African police said Mrs Dewani had been shot in the back of the neck.
At Wynberg Regional Court in Cape Town, Rodney de Kock, the director of the Western Cape Directorate for public prosecutions, confirmed that the Legal Aid Board would pay for Mr Mngeni's lawyers.
His co-defendants Zola Tonga, 31, from Bothasig, who was driving the couple, and Mzwamadoda Qwabe, 26, from Khayelitsha, have appointed privately-funded lawyers.
Mr Dewani has not been asked to go back to South Africa.