Bristol nursing home staff ignored dementia sufferers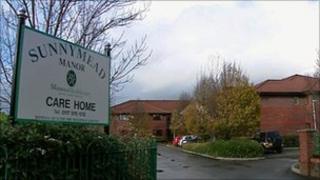 Carers at a Bristol nursing home ignored dementia sufferers despite repeated calls for help, inspectors have found.
The Care Quality Commission (CQC) said residents were left with food on their faces and clothing at Sunnymead Manor, in Southmead.
Admissions at the home have been suspended following the report.
The owner of the home, Mimosa Healthcare, has issued an "unreserved" apology for the distress caused.
"Mimosa Healthcare regrets that in recent months it has not delivered in certain areas to the high standards of care the company expects and delivers throughout its business," it said in a statement.
"We also acknowledge that this has also fallen short of the high standards rightly demanded by residents, relatives, the CQC and other partners."
The firm added it took the "concerns and issues highlighted within this report extremely seriously".
'Exposed to infection'
The CQC said it inspected the home after a member of staff there raised concerns.
Two inspections were carried out on 13 and 15 October.
Inspectors found bedrooms at Sunnymead had "offensive odours and stained carpets" while morning medication was given to residents too late.
There was also no evidence of training for staff in how to manage wounds and infection.
Ian Biggs, from the CQC, said the care at the home "fell far short of the standards people have a right to expect".
"It is even more disturbing when you consider that many of the residents here are frail, vulnerable people who are the least able to complain about the poor and unhygienic environment.
"We found clear evidence that the home is not maintaining essential standards of cleanliness, with the risk that staff and residents are exposed to healthcare associated infection."