Men in court over Anni Dewani Cape Town honeymoon death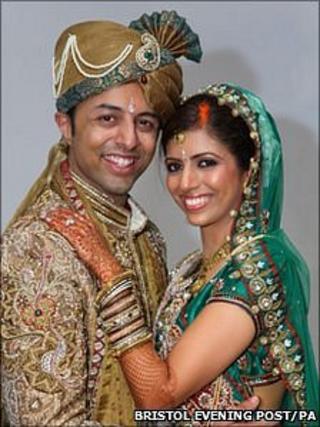 Three men have appeared in court charged with murdering a woman on her honeymoon in South Africa.
Swedish national Anni Dewani, 28, was killed when the taxi she and her husband, Shrien, were travelling in was hijacked near Cape Town.
Mr Dewani, 31, from Bristol, was released unharmed. The couple had been married for two weeks.
The three appeared in court in Cape Town earlier. The judge adjourned the case until 6 December.
Xolile Mngeni, 26, from Khayelitsha; Zola Tonga, 31, from Bothasig and Mzwamadoda Qwabe, 26, from Khayelitsha, face charges of murder, robbery with aggravating circumstances and kidnapping.
'No police contact'
Mrs Dewani and her husband, from Westbury-on-Trym, were kidnapped on 13 November.
The offenders released Mr Dewani and the taxi driver unharmed, but Mrs Dewani was found dead in the taxi in the Khayelitsha township the following morning.
Mr Dewani's spokesman, the publicist Max Clifford, said his client had not been called to South Africa by the police.
"He has made it very clear that in order to get justice, if he has to go back, then he will.
"The last place in the world he wants to go back to is there and, after what happened to him, I think you can understand it.
"He has made it very clear that he will help the police. The police haven't called him at all."