Ashton Vale stadium town green bid 'must fail'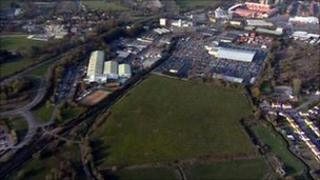 An application to designate land as a town green at the proposed site of a stadium in Bristol "must fail", Bristol City Football Club has said.
The club wants to build a new 30,000-seater stadium at Ashton Vale but the town green bid may block that.
Club spokesman Guy Price said there was not enough proof from residents to show the land was regularly used as a town green.
Councillor Charles Cave said he thought the stadium was in the wrong place.
The Long Ashton Parish Council member said he believed there were better options for the stadium.
"Does logic not dictate that if you're going to build a stadium... you build it near a major transport hub. We are not, in Ashton Vale, anywhere near a major transport hub."
Mr Cave added he was worried about increased traffic levels around any new stadium.
Land can be registered as a town or village green under the Enclosure Act 1857 and Commons Act 1876.
An independent planner has already recommended that the area be registered as a town green.
Bristol City Council will have the final say on the application which, if successful, would block the bid to build a stadium.
Mr Price said the club had "exhaustively" looked at sites across Bristol and said Ashton Vale was the best choice.
The stadium already has planning permission and could host World Cup matches if England's bid for matches in 2018 is successful.
Mr Price added that the onus was on people making the application for the town green to "strictly prove" the criteria for the bid.
"The application must fail and in this case it will," he said.