Bristol police urge student protest talks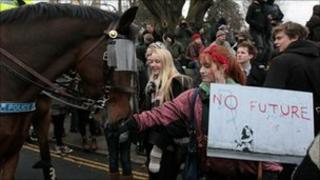 Police have urged student protesters in Bristol to talk to them before carrying out any further demonstrations.
More than 2,000 people attended a march to oppose a rise in tuition fees on Tuesday which was largely organised on social networking websites.
Avon and Somerset Police said they wanted to stop the protests causing "disruption and damage".
One organiser of student protests in Bristol, Gus Baker, said it was "great" they wanted to talk.
The University of Bristol student said it was "important that we retain our right to express our feelings".
"The protesters just want to make their voice heard and don't want any violence and there's been no suggestions of violence in the Bristol protests," he added.
Ch Insp Mark Jackson said a small minority of those taking part in protests had caused trouble.
'Safety is paramount'
On Tuesday, police made 10 arrests for public order offences.
"The majority of young people who have taken part in protests across Avon and Somerset have been law-abiding and peaceful," he added.
"We fully support and respect people's rights to peaceful protest, but public safety is paramount."
He now wants organisers to contact the force to discuss any further protests.
"It's in the interests of both protesters and the police to have a clear plan of what the demonstration can achieve, and how we can work together to negotiate the safest way of doing this," he said.
"The police are not trying to stop young people from staging legitimate protests. But we must insist that those protests are peaceful, lawful and safe."