World Cup disappointment for Bristol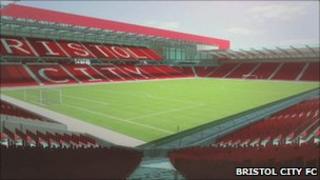 Bristol City Football Club says the decision to stage the 2018 World Cup in Russia will not derail them from their push for a new stadium.
Bristol would have been among the 12 host cities had Fifa decided to award the cup to England.
The club's proposed new home in Ashton Vale would have been the preferred venue for games in the city.
Bristol's bid team claimed staging games would have pumped £150m into the local economy.
The bid team had hoped a new stadium would host three or four of the major ties and not just the smaller matches.
Fan zones around the city were planned for those without tickets.
At the moment, Bristol City's Ashton Vale plans are being held up by an application from opponents who want the site designated a "town green".
An announcement on the application is expected within the next few days.
Colin Sexstone, Bristol City'schief executive said: "We started the stadium planning many years before the World Cup bid had been put in and we'll crack on with it.
"It's as important as ever for us that we have a new stadium and that Bristol has a new stadium."
John Hallett, of Destination Bristol, said: "It's very, very disappointing but we have to live with it."