South Africa honeymoon death husband 'plotted murder'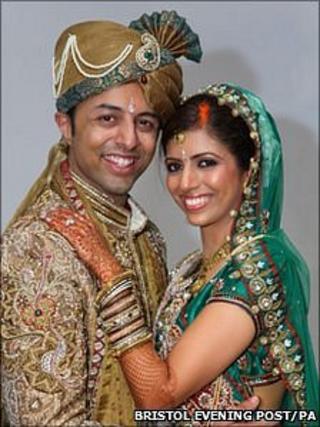 The husband of a woman murdered on her honeymoon in South Africa plotted his wife's death, one of three men charged with her killing has told prosecutors.
Anni Dewani, 28, from Sweden, was shot after being kidnapped while in a taxi with her husband Shrien last month.
Western Cape High Court heard taxi driver Zola Tongo allege he was offered 15,000 rand (£1,400) by Mr Dewani, 31, from Bristol, to kill his wife.
Mr Dewani's family described the allegations as "totally ludicrous".
Tongo, 31, from Bothasig, has been jailed for 18 years after agreeing a plea bargain.
He was charged with murder, kidnapping, robbery with aggravating circumstances and perverting the course of justice.
Xolile Mnguni, 23, and Mziwamadoda Qwabe, 25, face charges of murder, aggravated robbery and kidnapping.
Jewellery stolen
The BBC's southern Africa correspondent Karen Allen said the claims were made by Tongo as part of the plea bargain agreement with the State.
She said: "His allegations will have to be tested at trial where he's expected to appear as a state witness.
"Meanwhile Zola Tongo has been sentenced to 18 years in prison with immediate effect. It's not yet clear if and when Shrien Dewani will be extradited to South Africa to face trial."
Mrs Dewani was kidnapped while the taxi was travelling through Gugulethu township near Cape Town on 13 November.
The court heard Tongo drove the couple from Cape Town International Airport to the five-star Cape Grace hotel when they arrived in the city.
In his formal admission, Tongo said: "After we arrived at the hotel, Shrien Dewani approached me alone and asked me if I knew anyone that could 'have a client of his taken off the scene'.
"After some discussion with him, I understood that he wanted someone, a woman, killed.
"Shrien Dewani said he had US dollars and could pay in US dollars."
The court heard Tongo spoke to a friend about arranging a hitman later that day.
He was put in touch with Mr Mnguni and Mr Qwabe, both from the Khayelitsha township, the court was told.
"We agreed that Shrien Dewani and I would be ejected from the vehicle and that the female occupant had to be killed," Tongo told the court.
The court heard that Tongo sent a text message to Mr Dewani as they drove through Cape Town, reminding him not to forget about the money.
A reply informed him it was stashed in an envelope behind the front passenger seat.
'Wholly innocent'
Mrs Dewani's body was found inside the abandoned taxi on 14 November. Her wristwatch, a white-gold and diamond bracelet, her handbag and her mobile phone were stolen.
The couple had been married for two weeks.
Following his wife's death, Mr Dewani, from Westbury-on-Trym in Bristol, said that after dinner in a suburb and a walk on the beach, the couple had got into a taxi to head back to Cape Town.
He said on the way Mrs Dewani said she would like to see some of the "real South Africa" and the taxi driver left the motorway and headed towards Gugulethu township.
Two miles outside the township the vehicle was carjacked by armed men.
Responding to Tongo's claims, Mr Dewani's family said: "Shrien is wholly innocent of any involvement in this heinous crime.
Grief counselling
"These allegations are totally ludicrous, extremely convenient for South Africa and very hurtful to a young man who is grieving the loss of the woman he loved, his chosen life partner.
"The South African police have not even sought to speak to Mr Dewani regarding the allegations. Instead two weeks has been spent 'negotiating' this confession from the taxi driver whilst the others accused have complained of torture and forced confessions."
Publicist Max Clifford, who has been acting on behalf of Mr Dewani, described Mr Tongo's claim as the latest in a string of false allegations against him.
He said the Dewani family had tried to contact the South African police to find out why the accusations were happening despite a police statement saying Shrien Dewani was not a suspect.
He said efforts by the family, the British High Commission and Mr Dewani's lawyers in South Africa to contact the police had failed.
Mr Clifford said: "The South African police haven't contacted him, accused him of anything at all. There's been no contact from them or the South African prosecutors, even though we read in the papers that they've been questioning him daily."
On the possibility of Mr Dewani being extradited, he said: "We will be advised by the lawyers who are talking to the South African authorities or will be when they respond to their calls."
He said his client, who returned to the UK soon after his wife's death, had received trauma and grief counselling.
Speaking outside the court, Mrs Dewani's father, Vinod Hindocha, said: "I would like to say thank you to the South African people for the support and thank you for the whole world for the condolence messages to our family."
A spokesman for South Africa's national prosecuting office said a bid to request Mr Dewani's extradition was "a matter that is likely to be considered" as part of continuing investigations.
"Based on what happened in court today, obviously the investigations are going to intensify," he said.
Mr Mnguni and Mr Qwabe are due to appear before Wynberg Regional Court on 25 February before a full trial at Western Cape High Court at a later date.