South Africa honeymoon murder victim's family appeal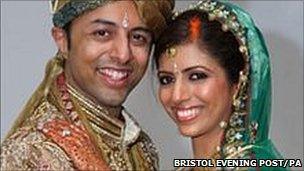 The uncle of murdered bride Anni Dewani has appealed to her husband not to resist extradition to South Africa after he was implicated in her killing.
Shrien Dewani is in custody in the UK held on suspicion of conspiring to murder his wife in South Africa.
The allegations were made by a taxi driver who pleaded guilty to her murder and was jailed for 18 years after accepting a prosecution plea bargain.
The High Court will decide on Friday whether Mr Dewani can be bailed.
He is currently in custody after the South African authorities opposed the application for bail granted by a district judge at the City of Westminster Magistrates' Court on Wednesday.
Mrs Dewani's family have been in South Africa for court proceedings.
Ashok Hindocha is Mrs Dewani's paternal uncle, and said: "My message to Shrien would be every day this case is not over it's torture, please don't prolong this any more.
"Just come down here and let the court decide, that's our wish. Every day's a torture for us."
He added that he thought Mr Dewani would "get a fair trial" in South Africa.
In a statement released on behalf of Mr Dewani by Clare Montgomery QC, she said he was "devastated by her murder and the false allegations that have been made against him".
The South African authorities want to question Mr Dewani after taxi driver Zola Tongo, who was jailed for 18 years, told the Western Cape High Court he was offered 15,000 rand (£1,400) to kill his 28-year-old wife who came from Sweden.
She was kidnapped while the taxi was travelling through Gugulethu township near Cape Town on 13 November.
Her body was found inside the abandoned vehicle. Her wristwatch, a white-gold and diamond bracelet, her handbag and her mobile phone had been stolen.
The South African authorities requested Mr Dewani's arrest in the UK on suspicion of conspiring to commit murder.
At the City of Westminster Magistrates' Court on Wednesday he told the court he did not consent to being extradited.
Mr Dewani, of Westbury-on-Trym in Bristol, denies any involvement in the murder.
Related Internet Links
The BBC is not responsible for the content of external sites.