Bath Spa railway station revamp is under way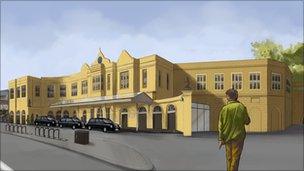 Work to restore the 170-year-old Bath Spa railway station building has got under way.
First Great Western said the revamp would see extra entrances added and access to the platforms improved.
The firm said there would also be a "restoration of a number of historic architectural features".
But the Federation of Bath Residents Associations' said they were unhappy with a lack of communication over the station changes.
Plans for the revamp were first unveiled 10 years ago and Robin Kerr said that residents had not had enough of a chance to have their say.
"For more than 10 years the people have Bath have not been consulted and have had no opportunity to comment on the changes that have happened."
One of the biggest changes since the plans were initially given the green light is a goods lift being converted to passenger use.
Dan Panes, from First Great Western, said when the firm took over the running of the station a decade ago they realised the old smaller lift was "a big issue".
He added that all of the statutory planning consultations had been completed but they "could have been better" in talking to commuters.
Other improvements planned at the station include new toilets and outside there will be improved drop-off points and additional parking spaces.
The work is due to be completed in summer 2011.
Related Internet Links
The BBC is not responsible for the content of external sites.