Consultation over Bristol deaf education begins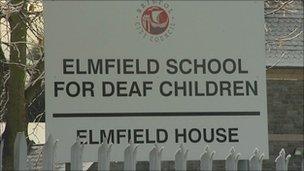 A consultation into the future of education for children with hearing problems in Bristol has opened.
Bristol City Council wants to replace Elmfield School for Deaf Children with "specialist resource bases" and extra help in mainstream schools.
The council said the number of applications for places at the school had dropped.
Elmfield School's chair of governors told parents they would "actively challenge" any potential closure.
A statement from Bristol City Council said it wanted to give more help to children in other schools.
"New proposals aim to increase support within mainstream schools and create more 'resource base' provision for families," it said.
"The number of applications for places at Elmfield School has declined over the last few years."
One parent, Liane Holland, said she feared her son Alex would not get the same specialist help in a mainstream school.
"He's a very confident deaf young man and I think all because of the school.
"They've given him his deaf identity and he's very proud in his deafness," she said.
The current consultation on the council's overall strategy closes on 14 February and if they decide to close Elmfield a further statutory consultation would have to be carried out.
Related Internet Links
The BBC is not responsible for the content of external sites.