Great Western Ambulance staff in strike ballot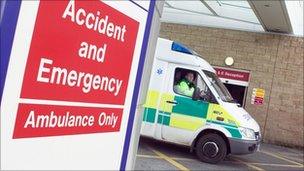 Great Western Ambulance Service staff are to be balloted over striking in a row over pay and conditions.
Unison said non-peak cover in areas such as Bristol, Gloucester, Bath and Trowbridge could be "slimmed down".
The union also claimed some ambulance workers could face pay cuts of up to £1,200-a-year.
Great Western Ambulance Service said it wanted to resolve any "outstanding concerns" with its staff and would continue to talk to them.
David Whiting, the ambulance service's chief executive, said the proposed changes centred on shift start and end times.
"We have not made unilateral decisions, we have spent the last six months consulting with staff and meeting with union representatives on a regular basis," he said.
"We believe that the majority of staff understand the need for these changes.
"Not only have we adapted our overall plans following staff feedback, we have also been able to accommodate some compromises to suit the personal circumstances of our staff."
Shane Clark, a Unison branch manager, said members were also angry about changes to rest breaks.
"It is not acceptable for crews to be forced to report for duty without adequate rest before shifts, nor for crews to be driving on blue lights for long shifts without rest breaks.
"The employers must listen to our members' concerns."
Related Internet Links
The BBC is not responsible for the content of external sites.