Police examine CCTV in missing Bristol woman search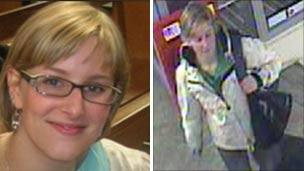 Police are examining CCTV footage for clues following the disappearance of a woman reported missing from her Bristol home five days ago.
Joanna Yeates, 25, was last seen on 17 December when she left the Ram pub on Park Street at about 2000 GMT.
Detectives believe she then returned to her flat in the Clifton area as receipts from nearby Tesco and Waitrose supermarkets were found there.
On Wednesday officers with dogs were searching the Downs and Avon Gorge.
Police are also studying private CCTV footage which shows the area around her Canynge Road home.
Det Supt Mark Saunders said: "You can see lots of people walking up and down and vehicles driving up and down on Friday night and the early hours of Saturday morning.
"We'd really like to get hold of any of those people because if anyone was in that street, even if you didn't think you saw anything you might be able to help."
Miss Yeates is a landscape architect at BDP's Bristol office.
A spokesman said everyone at the company hoped she would be back soon.
"Jo is always bright and cheerful and a great team player so to go missing, as far as we are concerned, is completely out of character.
"Our thoughts go out to Jo's parents and her partner Greg, who also works for us here in Bristol, at this very distressing time."
Speaking at a news conference on Tuesday, her father David Yeates from Southampton, said: "Whatever the reason you haven't been in touch over the last few days, we want you to know we love you dearly and are desperate to know you are safe and well."
Related Internet Links
The BBC is not responsible for the content of external sites.