Loan shark problem 'will get worse' in the South West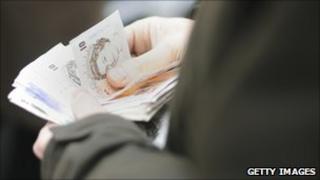 The use of loan sharks is increasing and going to "get worse", according to experts in the South West.
The Bristol-based Illegal Money Lending Team claims it is already a serious problem across the region.
Spokesman Alan Evans said they were "really concerned" and that with harder times ahead "this problem will get worse".
Since its launch three years ago the team has recorded a 700% increase in referrals which are still growing.
'Huge interest rates'
Di Martin, 57, found herself paying back "100 times more" than she owed after borrowing from a door-step lender in the Forest of Dean, Gloucestershire.
She said: "When you're in this situation, where people are pressurizing you to pay back huge interest rates, you become more and more fearful and it's a very difficult situation to get out of."
Mr Evans also warned that the problem was not just affecting individuals and families but also small businesses.
He said rate increases by the main lenders had led to small businesses being reeled in by "no questions asked" cash loans.
The South West's Illegal Money Lending Team covers the region from Gloucester to Cornwall.
However the government has announced that from March 2011 it will be scrapping such regional teams and moving to a structure that will see a Birmingham-based team cover all of England.