Low uptake for Kingsdown parking zone in Bristol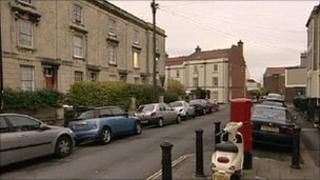 Fewer than half of the people eligible for a residents' parking scheme in Bristol have applied for permits.
People living in Kingsdown are being asked to pay £30 for an annual pass and another £80 for a second car.
Terry Bullock, the traffic manager at Bristol City Council, said that the holidays may have led to a low take-up.
He said about 40% of households had applied for a permit but some might not apply as they take their car to work during the operating hours.
He added: "We were hoping that more people would apply but with Christmas we got [the numbers] we were expecting.
Parking fines
"People have a particular problem with parking during the day and the scheme is designed to reserve parking."
Those not displaying a valid permit when they park in the zone, which operates on weekdays between 0900 GMT and 1700 GMT, could face a £50 fine.
Mr Bullock denied that the scheme, the first to operate in Bristol, was there to make money.
He added: "We have to operate the scheme and issue permits, then have people walking the streets making sure people have permits.
"People around the rest of the country pay a lot more than that."
The scheme will be reviewed after six months and Mr Bullock added it was possible that other areas could get residents' parking zones in the future.