Jo Yeates' parents say she was 'dumped like garbage'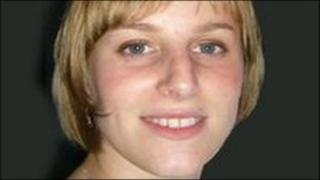 The parents of murdered Jo Yeates have spoken of the events they say took her from a happy, carefree young lady to a body "dumped like a piece of garbage".
David and Theresa Yeates from Hampshire said their lives had been "changed for ever" the day she disappeared.
"It was heartbreaking being in her flat, with her missing and seeing her Christmas tree with a little pile of presents next to it," Mr Yeates said.
Police said a number of new leads were now being followed up.
On Friday evening more than 200 people were questioned at various locations around Bristol as police retraced the route 25-year-old Miss Yeates was believed to have taken.
Drivers were also stopped near to where her body was found on Christmas Day.
Det Ch Insp Phil Jones said the response was "very positive" and every piece of information would be examined.
In a statement, Mr and Mrs Yeates and Miss Yeates's elder brother Chris said they had been "overwhelmed" by the support shown by her friends and the public following Jo's disappearance.
The family who live in Ampfield, near Romsey, said: "We truly felt that Jo would simply be just another statistic.. but are heartened that this hasn't been the case.
"Many people, through the words written and the pictures shown, have seen in Jo a small part of what we saw in her."
A book of condolence has been opened at Christ Church Clifton, close to the Canynge Road flat she shared with boyfriend Greg Reardon.
Associate vicar Wayne Massey said he hoped the book would offer some small measure of comfort for Jo's friends and family.
He said: "People are in equal measure shocked and saddened at the tragic death of Jo.
"You don't expect this to happen anywhere but especially in a place as nice as Clifton.
"At times like this the church becomes a focal point of the community for people's fears, sadness and concerns.
"It's a privilege to be able to offer people a place to pray and write down their thoughts," he added.
Miss Yeates was reported missing on 19 December by Mr Reardon and her body was found at the roadside by a couple walking their dogs on Christmas Day.
'Everyone pulls together'
On Saturday afternoon, players from Bristol City Football Club warmed up ahead of their match with Sheffield Wednesday wearing shirts showing Miss Yeates' picture and a police contact number.
A club spokesman said an appeal would made on the public address system detailing the £10,000 reward from Crimestoppers and £50,000 from The Sun newspaper for information leading to a conviction.
Club chairman Steve Lansdown said: "When something like this happens in the community it is important everyone pulls together to help."
On Friday evening police investigating the murder of Jo Yeates spoke to motorists and pub-goers in Bristol in an attempt to find her killer.
Officers questioned customers at the Bristol Ram, the pub she visited on the night she vanished, and put up posters.
Police also carried out inquiries in the Clifton area of the city, and at Longwood Lane where her snow-covered body was found on Christmas Day.
Forensic officers are also continuing their search of Miss Yeates' flat.