Bristol sex attacker Darren Green jailed for life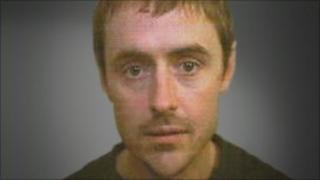 A man who assaulted two women then attacked hospital staff while he was being treated for drug abuse has been jailed for life.
Darren Green, 34, of Mangotsfield Bristol, received two life sentences after making rape threats to the women as he robbed and assaulted them.
Bristol Crown Court heard that for nine days in 2009, Green was the most wanted man in the city.
He must serve at least six years before being considered for release.
Green was caught when he was recognised after the hospital attacks.
He was found guilty of two assaults with intent to commit a sexual offence, four robberies and assault occasioning actual bodily harm. He was discharged on two attempted rape charges and the judge directed that he be found not guilty of one further attempted rape charge.
'Extreme violence'
The court was told that the crime spree began on 29 October, when he broke into a woman's flat in Kingsdown, strangled her until she was unconscious and sexually assaulted her.
On 3 November, he carried out a similar attack and robbery on a woman in Bedminster.
By this time, police said, his offending had spiralled out of control.
On the same day, he punched a woman waiting for a bus in Knowle, causing her actual bodily harm.
He struck twice on 4 November, robbing a woman in the street in Totterdown and a second in the village of Pill.
Then on 6 November he broke into the Apple Tree pub in Bedminster and stole £2,000.
By now, the court heard, Green was being hunted by every officer in the Avon and Somerset force.
Drug taking
Det Supt Sarah Crew told BBC Points West: "As the offences progressed, they escalated in violence and they escalated in their frequency.
"Severe and extreme violence was used to overpower and subdue his victims.
"For that period of time, Green was a danger to anybody who crossed his path.
"Bristol has been a much safer place as a result of his arrest and conviction," she added.
Green was arrested after he was taken to Bristol Royal Infirmary, suffering from the effects of drug taking.
While at the unit, he assaulted staff and police were called.
A sergeant recognised the description of the offender as matching Green and units moved in to hold him.
Sentencing him, Judge David Ticehurst said: "In my view, you are a dangerous individual and represent a continuing threat to the public, particularly women."
Correction 2 November 2012: This story has been amended to clarify the charges Green was convicted of.