Queen Mother's prototype wedding dress sold in Bristol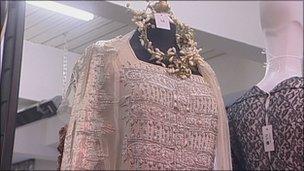 A prototype of the dress worn by the Queen Mother at her wedding in 1923 has been sold for £3,500 at auction in Bristol.
The garment was made by the Queen Mother's dressmaker, Madame Handley Seymour.
It had been estimated to fetch between £500 and £700 in the sale of vintage fashion and textiles at fine art auctioneers Dreweatts.
The example was one of three suggested, and was used for the final design.
Malcolm Claridge, valuer at Dreweatts' Apsley Road site, said he was amazed at how "very slight" the dress was when he first saw it.
"It did not really strike me as a Royal wedding dress," Mr Claridge added.
"Although the workmanship is beautiful, it's very much a 1920s flapper style and at the time considered to be very unflattering dress.
"However I think it works really well. One of the girls here recently modelled it and it looked very current."
The dress selling for about five times its original estimation did not surprise Mr Claridge.
"It was the right place at the right time," he said.
"With the interest with The King's Speech and Kate and William's wedding, it had to be the right time for it and it has created quite a media frenzy."
The Queen Mother, or Lady Elizabeth Bowes-Lyon as she was before she wed, became engaged to Prince Albert, Duke of York in January 1923.
In a break with tradition, it was decided their wedding would be a public affair at Westminster Abbey instead of at a royal chapel.
It is believed this decision was taken to lift the spirits of the nation following the ravages of the Great War (1914 - 1918).
The wedding took place on 26 April and Lady Elizabeth Bowes-Lyon was attended by eight bridesmaids.
Related Internet Links
The BBC is not responsible for the content of external sites.