Anni Dewani: Suspect claims honeymoon hijack was staged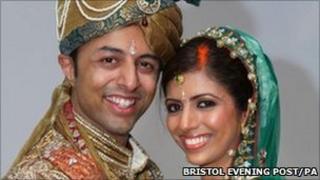 One of the men accused of murdering Anni Dewani on her honeymoon in South Africa has claimed the hijacking which led to her death was staged.
Mziwamadoda Qwabe's claim was revealed in a statement which has been released by police at a bail hearing.
Mrs Dewani, 28, from Sweden, was found dead in Cape Town in November after being kidnapped with her husband.
Shrien Dewani, 31, of Bristol, has been accused of hiring a hit man to kill his wife, but denies any involvement.
Mr Qwabe, 25, has claimed he made the statement after he was assaulted.
In his statement, he said he had agreed to take part in a staged hijacking and robbery.
'Single shot'
Investigating officer Captain Paul Hendrikse said that Mr Qwabe and co-accused Xolile Mngeni hijacked the taxi containing Mrs Dewani and her husband on 13 November.
Taxi driver Zola Tongo was apparently allowed to go after telling them the money they had been promised was behind the front passenger seat.
Tongo has already been jailed for 18 years after admitting his role in the murder and making a confession that implicated Mr Dewani.
Mr Qwabe's statement said he and Mr Mngeni drove off but stopped to let Mr Dewani out of the car and carried on.
Captain Hendrikse said in the document: "[Qwabe said] that while he was driving he heard a single shot. That he got scared and nervous and parked the vehicle at the side of the road in Litha Park.
"That he got out and saw Mngeni looking for the bullet and that he [Qwabe] found the casing and threw it in a drain while they were running away; and that Mngeni brought the firearm to him the following day."
Mr Hendrikse told the court that the day after Mr Qwabe made the statement, he formally pointed out the crime scene to police, who recovered a cartridge and firearm from the scene.
Mr Qwabe and Mr Mnguni, 23, are charged with murder, kidnapping and robbery with aggravating circumstances.
They are due to appear before Wynberg Regional Court on 25 February.
A full trial at Western Cape High Court is due to begin at a later date.