Man dies in Royal Portbury Dock fall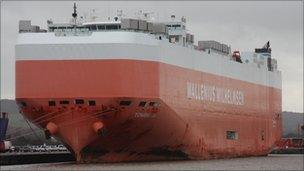 A man has died after falling from a ship into Royal Portbury Dock near Bristol.
The accident happened at about 1600 GMT on Monday when the man and three others fell into the water during an emergency exercise drill.
The men, from the Philippines, were all members of the ship's crew and were taken to the Bristol Royal Infirmary.
A 23-year-old man died in hospital. The ship's owner said one other man had now been discharged.
The men are aged between their late teens and early 30s.
The incident happened on the MV Tombarra, a British-registered car carrying ship.
The sailors were in a lifeboat when it plummeted about 30 metres (100ft) into the sea from the top deck.
Det Insp Leanne Pook, from Avon and Somerset Police, explained: "The rescue boat was deployed and completed a patrol of the docks and during the process in which it is re-stowed, there was a mechanical failure or an equipment failure and the boat fell back into the water."
The vessel is owned and operated by maritime services provider Wilhelmsen, which has its headquarters in Norway.
A company spokesman said the ship was en route from Koper in Slovenia, to Zeebrugge, Belgium, with 22 Filipino crew members on board when the incident happened.
He said: "All our thoughts, sympathies and condolences go out to the family of the deceased crew member.
"We are in touch with the family and are doing everything possible to provide support at this difficult time.
"The three other seafarers involved were taken to hospital and one has since been released.
"It is hoped that the two remaining seafarers will be able to leave hospital tomorrow."
The Maritime Accident Investigation Branch, the Maritime and Coastguard Agency and Avon and Somerset Police are investigating the accident.
Related Internet Links
The BBC is not responsible for the content of external sites.